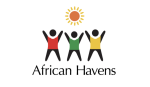 David and Caroline exemplify what it means to give up everything for the "least of these." Their lives proclaim the mercy and goodness of God to those who have been abandoned and set an example for the rest of us for what the Christ Centered, Spirit Empowered, Socially Responsible life can produce.
We are honored to highlight them and their ministry. Please consider partnering with them. Here is an origin story excerpt from their website:
"As local church pastors we had become convinced one of the litmus tests for relevancy in our generation would be whether we had played our part in the Aids orphan crisis, one of the greatest challenges of our times. We were (and are) part of a church movement that understood the key to changing the world: our influence on the young people of today. Twenty million of those young people were about to appear on the world's doorstep without father or mother: children of the Aids crisis. They were all healthy children, they were just the ones left behind. So the Havens were formed."
Visit Haven's website to partner with the Webb's and learn more about their ministry.